The Be'er Sheva Theater for Children and Youth
The Be'er Sheva Theater for Children and Youth is the first of its kind in the Negev, providing empowering artistic and cultural experiences for children ages three through eighteen. We are a local theater and emphasize an uncompromising process of creating and producing quality content as a tool for enriching and expanding cultural resources and equity for children in southern Israel, and have become an influential cultural focal point locally and nationally.
In addition to values-based artistic activity, the theater also plays an important role in the Negev's development through several channels. The theater provides much sought-after employment opportunities for actors and creators looking to make the Negev their home, and affects positive change and educates the young generation, thereby contributing to the vitality of the region's culture and recreation as a means of improving quality of life and strengthening the region's residents.
About Us
The Children and Youth Theater was established in March of 2016 and operates in the Be'er Sheva Youth Center in the Old City, at the heart of a young, vibrant cultural center.
The Theater employs 70 actors, writers, producers and creators.
During its first year of activity, the Theater produced four original productions, which were performed more than 70 times throughout Israel. In its second and current year, an additional six productions were introduced, with 300 performances. Our shows have been performed in more than 40 cities and towns, and have reached more than 100,000 children from Kiryat Shmona in the North all the way down to Eilat in the South.
The Be'er Sheva Theater for Children and Youth won two stage prizes in the Children Theaters' Ceremony in 2016, and an honorable mention from the Ministry of Education's National Culture Basket, which supports cultural exposure and experiences for schoolchildren. 
2020 Objectives
The theater's strategic plan sets 2020 as a milestone year, with the introduction of 12 new productions, 500 shows and an audience of 350,000 children and youth throughout the country.
Partners
The City of Be'er Sheva, The Ministry of Education and Sport, The Negev Development Authority, The Goodman Acting School of the Negev, Mifal HaPais, and The Be'er Sheva Theater.
The Snow Queen – Winner of two stage prizes for Children's Theater in 2016
Ages 6-10 (Grades 1-4)
An original play based on the classic story by Hans Christian Andersen
Written by Ido Ricklin | Directed by Rafi Niv
The Snow Queen portrays Gerda's incredible and couragous journey to the Ice Palace in the far North. Gerda sets out to save her friend Kai who has been put under a spell by the Snow Queen.
Release Year: 2016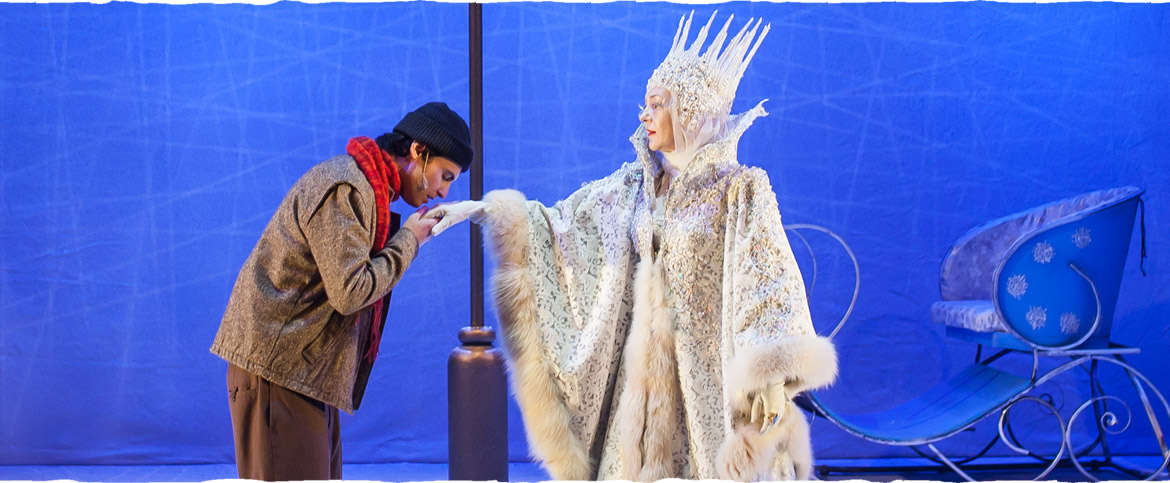 The Selfish Giant
Ages 5-9 (Kindergarten – Grade 3)
An original play based on Oscar Wilde's short story
Written by Noam Gil | Directed by Yair Sherman
The play depicts a friendship that develops between a giant and a little boy. During the story, the child teaches the giant about the essence and importance of human compassion and true friendship.
Release Year: 2016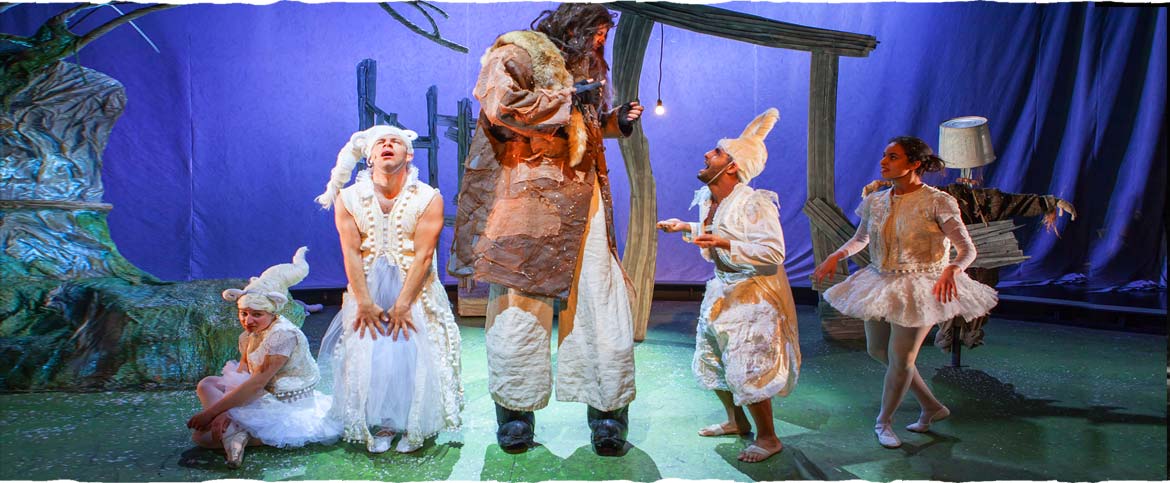 When the Star Fell into a Puddle
Ages 3-6 (preschool and kindergarten)
An original play based on the book by Shlomit Cohen-Assif
Written by Uri Orian | Directed by Tula Damari
The play tells the story of a star and a child who meet one fateful night. The star was shining with fear of becoming a shooting star and falling, and the boy, Nooli, was afraid of the dark. When the two meet, the most miraculous things happen, and the pair draws courage into each other's hearts.
Release Year: 2016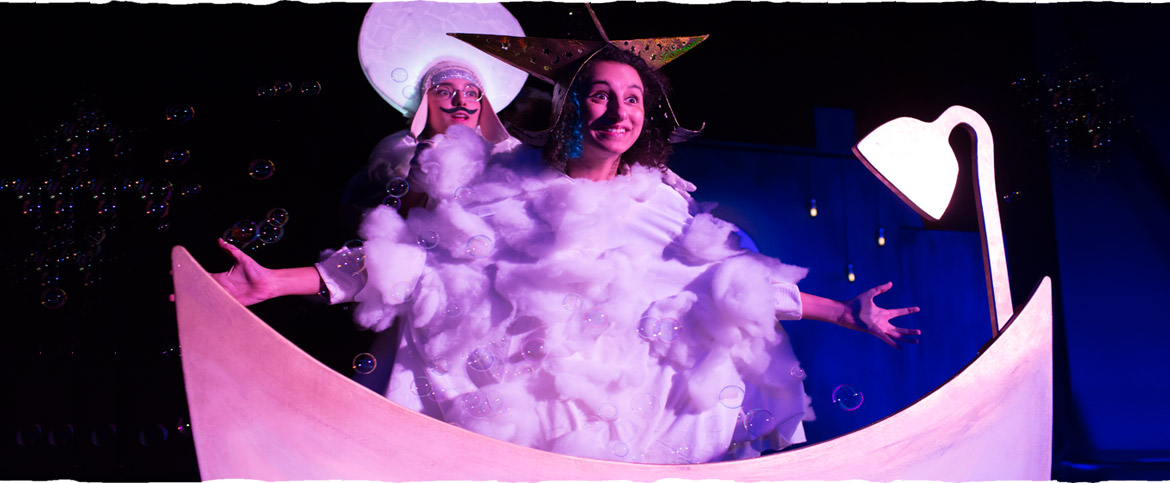 A Trip to the Cheese Star
Ages 5-9 (Kindergarten – Grade 3)
Written and Directed by Yoav Bar-Lev and Chanoch Reim
Two lonely children meet in the yard and embark on an exciting adventure. They take off on a spaceship to the stars and crash into the Cheese Star. The play emphasizes the joy and importance of endless imagination and tells of a friendship that grows against all odds.
Release Year: 2017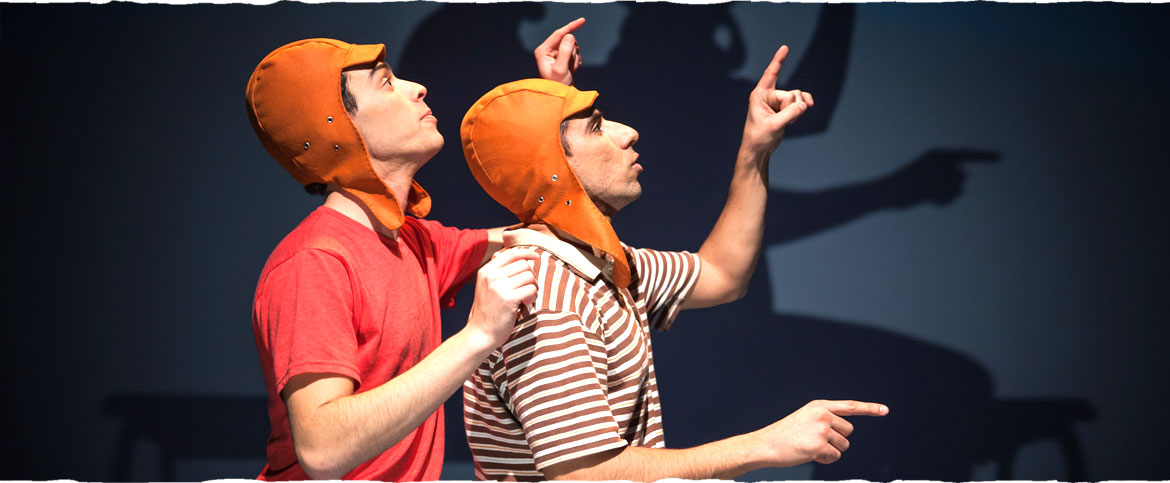 Caps for Sale
Ages 3-5 (Preschool – Kindergarten)
Based on the story by Esphyr Slobodkina | Preformed by Marganit Shaya
A humorous, touching and exciting performance, in which the children constitute an active audience and an integral part of the development of the play. Together, the children experience and create the image of the hat vendor, from his clothing, his walk to his voice. A journey through imagination introduces and familiarizes the audience with world of pantomime and mimicry.
Release Year: 2016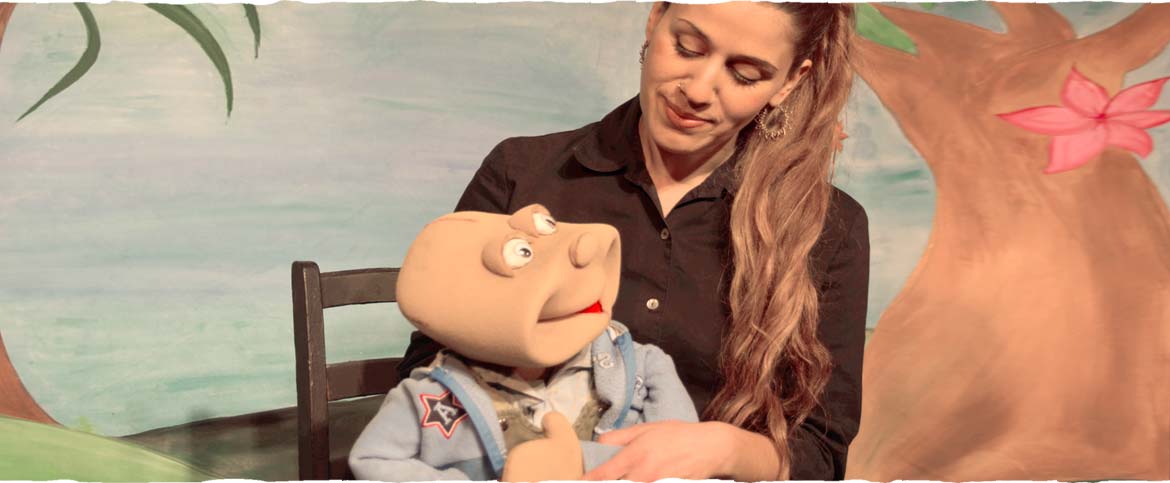 A Wonderful Tale of Treasure
Ages 3-6 (preschool – Grade 1)
Written and Directed by Chanoch Reim
Princess Aliza, who does not know how to do anything on her own, and her loyal guitar-playing servant embark on a treasure hunt. Their map leads them to a chest full of junk and garbage, and the two begin another journey, into the world of imagination and creativity.
Release Year: 2017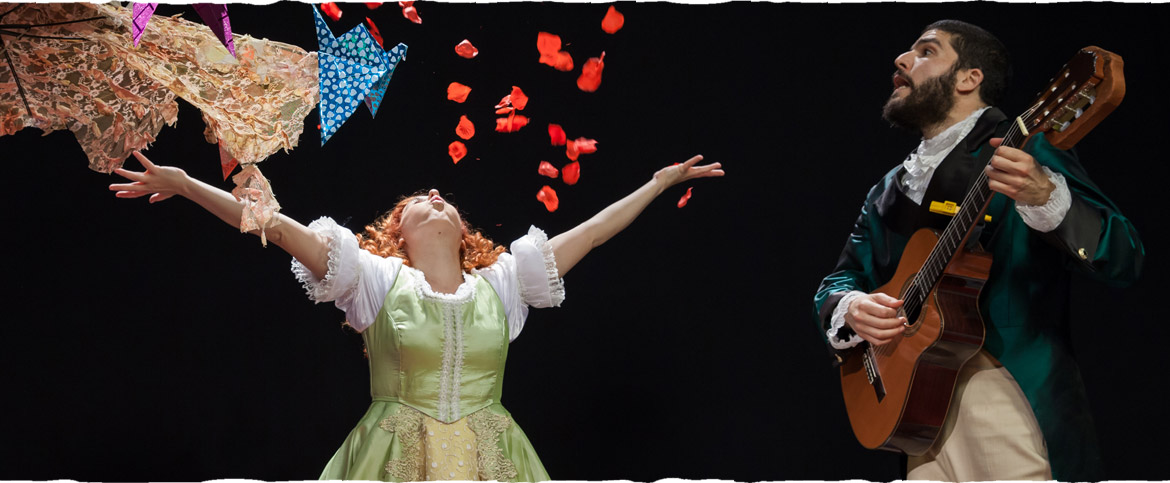 Extra Large
Ages 12-15 (Grades 6-9)
Written by Oren Ya'akobi | Directed by Kfir Azulay
Sixteen-year old Noam meets Gigi and finds himself enamored by her. She is beautiful, funny, loves horror movies and is also… extra large. An emotional and courageous comedy about shaming, the drive to fit in at all costs, self-acceptance and first love.
Release Year: 2017
Thoughts That Do not Want to Sleep
Ages 6-10 (Grades 1-4)
A musical based on poems by Shlomit Cohen-Assif
Written and Directed by Chanoch Reim
Noga doesn't want to move to a new house and leave the place where she grew up. Her father, Amos, tells her about the day he moved from his home as a child, and about his friends' attempts to delay the move and give Amos a chance to tell Ruth how he feels.
Release Year: 2017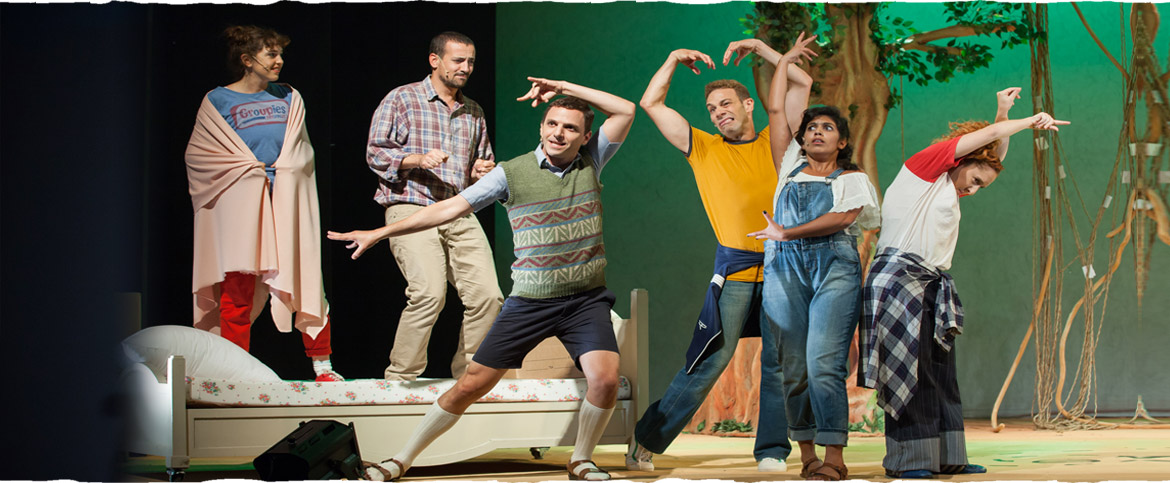 Jelly and Nuts
Ages 14-18 (Grades 9-12)
Written and Performed by Tamar Levin | Directed and Arranged by Jonathan Cherchi
A story about an arduous journey to find home. Tamar tries to recreate her grandmother's recipe for cookies with jelly and nuts, through which she tells the story of her grandmother's childhood in the Holocaust and as a young woman trying to integrate into Israel and the kibbutz.
Release Year: 2017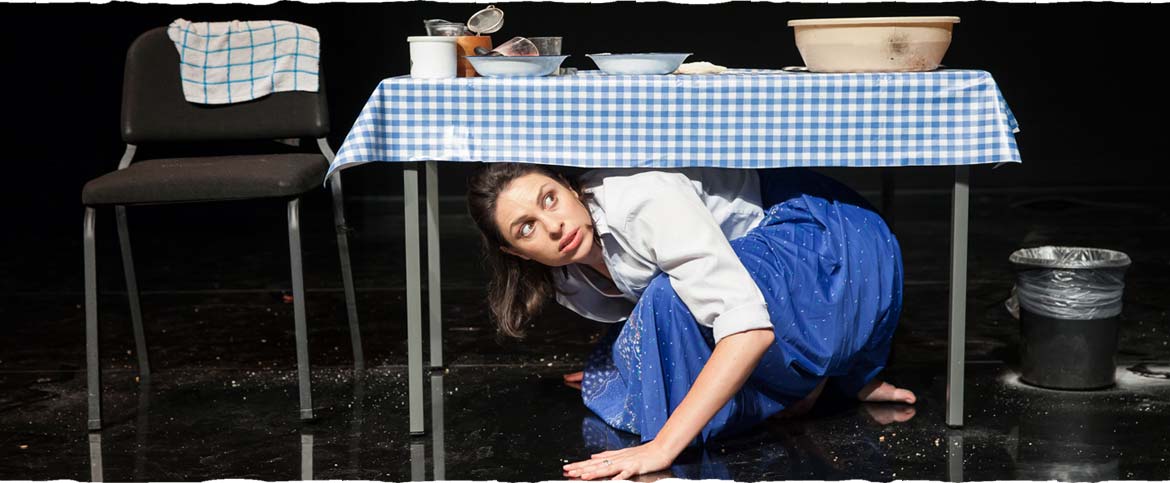 Pouring Rain
Ages 14-18 (Grads 9-12)
An original play based on a true story
Written by Gadi Inbar | Directed by Maya Nitzan
Asher Danube, a man with a mental and developmental disability, is accused of murdering a seventeen-year old girl who lived near the hostel where he resides. The hostel's director, who is also Asher's guardian, embarks on a personal battle, with nearly no chance of winning, in order to prove Asher's innocence.
Release Year: 2017